I am tired. At 52 years old and still taking care of 6 toddlers and babies and my family every day, I am exhausted at times, ok…. most of the time!
We have all been there! I remember stumbling into walls I was so tired when my babies were young. All I wanted to do was go to sleep for 48 hours!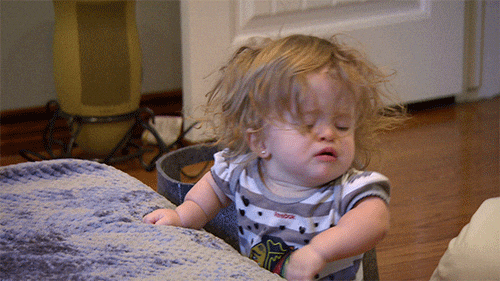 Clearly, that isn't a possibility. Life goes on and so must we! We will survive. We have homes, children, laundry, work, meals, and relationships to tend to.
So how do we keep going when we really just want to nap or put our feet up? How do we keep from being overwhelmed and frustrated?
How do you eat an elephant? One bite at a time! Doing daily routines is a huge lifesaver during times in your life where you are sleep deprived or overworked. You do those on autopilot. For all the other things that need to be attended to…..do them one thing at a time. One load of dishes, one room tidied up, one meal made. Put one foot in front of the other and try not to think of the whole picture, just what needs to be done next.
We often give ourselves too many outs, too many breaks. We are capable of far more than we think. Yes, it is really easy to say "I worked hard all day. I deserve to sit down and watch my favorite TV show instead of doing the dinner dishes." but is that really doing yourself any favors? It's not! Those things left undone will still be there when you are ready for bed or when you get up in the morning. It will put you that much more behind the next day and the next. It will snowball, get you down, make you depressed, make you make bad choices, make you grouchy and more tired.
I am not suggesting that we live on four hours of sleep and never stop working. Most definitely not! Sleep is very important for your health. I am talking about those times you know you should be folding clothes while watching that TV show. The times when you decide to just read one chapter of your book before starting dinner dishes….and then dishes don't happen. The days you hit snooze too many times and decide not to do your morning routine.
Have you ever read Little House on the Prairie? Have you ever read the whole series? I know they are kids books but if you haven't read them, read them. Read them to your kids. I have read them multiple times. I read them to my kids… maybe more than once. I am reading them to my granddaughter. They made a huge impression on me when I was a child. So much so that a few years ago when we had the chance we took the family to see Laura Ingalls Wilder's house in Missouri. It was a wonderful experience.
If you are ever in Missouri it is worth stopping in to see! Laura Ingalls Wilder Historic Home and Museum, click here to check it out!  
Whenever I am tired and really just don't wanna anymore, I think about all the things those people did and how hard they had to work just to survive. They couldn't go through the drive-thru for lunch. They couldn't even stop at the grocery store after work! Every single thing had to be planned, not days ahead but whole seasons and years ahead! They didn't have a washer or dryer for laundry, Heck, they didn't have the luxury of a couch to sit on and TV to watch while they folded their laundry! They would feel ashamed to be as lazy as we are now. We are capable of SO MUCH MORE! Modern convenience has us convinced and conditioned to feel we deserve to sit down and put our feet up.
A little sleep, a little slumber, A little folding of the hands to sleep–So shall your poverty come on you like a prowler, and your need like an armed man.

Proverbs 6:10 and Proverbs 24:33


(Just a quick side note… did you know that the above verse is in the Bible TWICE?! The exact same wording. I am thinking we are to take notice of that verse!)
I am sure that if our lives depended on it, we would be up before dawn putting wood in the wood cook stove and starting those beans to soak. We would be milking the cow and feeding the horse. We would be canning all day during harvest and skinning deer and drying meat in the winter. Sewing clothes by lantern light would be our downtime. If our survival was at stake we would take far fewer breaks and find a strength within we didn't know we had.
Next time you just don't wanna…. remember, you have a TV and a couch. You have time and you are capable of so much more!
I can do all things through Christ who strengthens me.

Philippians 4:13


 If you are interested in purchasing the "Little House" series, click on the image below!